This the Rapid Fire Book Tag introduced to me by Mischenko over at ReadRantRock&Roll. I've just started following Mischenko who has a blog full of fun book reviews and author spotlights! So if you're looking for something new to dive in, definitely check her blog. It was originally made by GirlReading over Youtube, so be sure to stop by and check her out HERE.
---
Q&A:
Question 1: E-Book or Physical Book? 
I was always physical books but when I was living paycheck to paycheck, physical books weren't feasible so I got into ebooks and now I'm primarily ebooks and I'm not as poor as before so when it's an author I really like I support them by buying both formats.
Question 2 : Paperback or Hardback?
Hardcover primarily but I have a ton of paperbacks and indie authors primarily publish in trade paperback so I guess I'm a mix.
Question 3 : Online or In-Store Book Shopping?
Primarily online shopping because the books that I like aren't usually found in stores or sold out. However, if we're talking independent book shops, I'm all over in store book shopping. Buy 2 get 1 free you say??
Question 4 : Trilogies or Series?
Both. A lot of authors start out planning to only write a trilogy and then it turns out that their fans love them and wish they would continue into a series. Either way its a win win cause you have more than one book to enjoy your favs.
Question 5 : Heroes or Villains?
Do anti-heroes count? It's kind of a mix of the two. I like the guy/girl who seems to be the bad guy but actually has some semblance of a heart in there even if their personality is naturally aloof
Question 6 : A book you want everyone to read?
 The Count of Monte Cristo by Alexandre Dumas. 
Question 7 : Recommend an underrated book?
Instead of just one book I'm going to say science fiction books written by women are completely underrated. A lot of people aren't aware that women who write science fiction is like taboo in the book world. The genre is dominated by men and, sadly, a lot of these authors, in order to get their books out there, end up adding romance into their stories to get them out to the masses.
Question 8 : The last book you finished?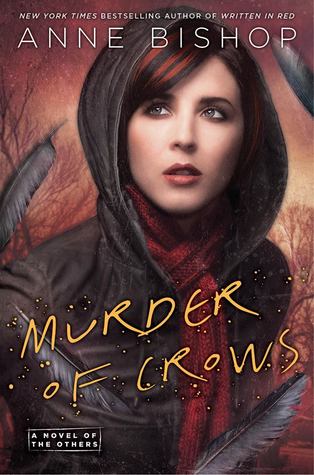 Murder of Crows by Anne Bishop
Question 9 :The Last Book(s) You Bought?
Oh jeez, I scored a handful of books from the thrift store last Thursday. One of them was Shield of Winter by Nalini Singh. It was perfect condition hardcover for 90 cents!
Question 10 : Weirdest Thing You've Used as a Bookmark?
I do a lot of tablet reading so bookmarks are not necessary but I've been known to use whatever is closest to me. Plates, hair ties, straws, kitty toys…
Question 11 : Used Books: Yes or No?
Definite yes. I make it my business to go to as many library sales as possible.
Question 12 : Top Three Favorite Genres?
Fantasy, Romance, Science Fiction and the sub genres in between
Question 13 : Borrow or Buy?
Buy. I'm all about supporting authors and the only way to do that is by buying their books
Question 14 : Characters or Plot?
Plot. Can have the greatest characters in the world but if they don't have a good plot I'm not interested. It's all about that world building!
Question 15 : Long or Short Books?
Depends on what you consider short. Most books I read are 300 pages or more. But I do read novellas that are tied to a series and those are usually 70 pages or less.
Question 16 : Long or Short Chapters?
When I like being tortured everyday (coughcimmeriancough), I like short chapters. But it doesn't matter to me if the story has substance. The chapters will blend because I'll be so absorbed and won't care about anything else besides finishing the book.
Question 17 : Name The First Three Books You Think Of…
A
 Kingdom of Dreams by Judith McNaught (was just talking about historical romances with a coworker
The Three Musketeers by Alexandre Dumas (that was almost my answer for books everyone should read)
Vision in Silver by Anne Bishop (currently reading)
Question 18 : Books That Makes You Laugh or Cry?
Both. I'm a bundle of emotions and I get really attached to my fictional characters! 
Question 19 : Our World or Fictional Worlds?
Fictional. The real world is in chaos right now and I'd rather be in fictional world with an HEA ending.
Question 20 : Audiobooks: Yes or No?
No. I'm weird about the way characters sound in my head versus how other people narrate them. I can't do it. I tried and got upset, lol.
Question 21 : Do You Ever Judge a Book by its Cover?
Guilty. I blame Goodreads for that though! You get into a book spiral because of their recommendations reel and end up clicking all kinds of books that look interesting based off their cover to find out more!
Question 22 : Book to Movie or Book to TV Adaptations?
Book to TV. Movies are one and dones. TV adapations can go on for many seasons! I also say this because I've never read Game of Thrones, and don't plan to, but the TV adaptation is solid gold! (WINTER IS COMING IN LESS THAN A MONTH!)
Question 23 : A Movie or TV-Show You Preferred to its Book?
Outlander. I read the first two books and lost interest but the TV show melts me into a puddle of warm fuzzies when I'm not crying my eyes out. They casted Claire and Jamie to perfection!
Question 24 : Series or Standalone?
I have to say both. I read a lot of series but a lot of the authors like Judith McNaught write series where each book could be a standalone so you don't have to read the books in order to still enjoy them. But I love contemporary suspense stories (looking at you Sandra Brown) and those are crazy, fantastic standalones.
---
I wasn't tagged but I would really love to see cwhiteweb, LizScanlon, Patty, theorangutanlibrarian, and Jo-Ann do this tag and any other bookworms out there like me who don't post book related things all the time but have a serious addiction to reading 🙂