I haven't done a book related post in a while so of course when the wonderful Patty @ Moonshine's Corner tagged me for this tag I decided why not! If you haven't met Patty yet you need to head over there. She's super awesome. She writes book reviews as well as occasional life adventures updates.
I'll admit, this tag was hard to do. I had to consult the back pages of my Goodreads to find some of these because I haven't read any YA in a really long time. Some of my answers are NA because I just didn't know what else to pick and I read some of then as a teenager and liked them so they're considered YA in my eyes.
---
The Rules:
Thank the person who tagged you.
Mention the creator Krysti at YA and Wine
Match at least one YA girl with each of the themes below.
Tag as many people as you like!
Here we go:
1. WARRIOR GIRLS:
Shanti is fleeing from people who want to harm her and ends up with a rag tag group of boys who are basically warriors in training and teaches them her badass warrior skills so they can help her save herself.
2. GIRLS WHO FIGHT WITH THEIR MIND:
I took this one to mean literal mind fighting. Jelena is branching away from her mother to continue the family freight business. Just like her mother, it involves lots of space adventures that require her mind powers, with the help of her crew, to get out of some binds.
3. GIRLS WHO FIGHT WITH THEIR HEART:
The whole premise of this series is a girl who falls in love with a human who's cursed to be a tiger. Kelsey gets a summer job at a circus where she ends up meeting Ren the tiger and subsequently Ren the human. She goes through tests and trials throughout first to extend the time he can stay human and eventually to break the curse completely.
4. GIRLS WHO ARE TRAINED FIGHTERS:
I mean, there's swords, magic, love; perfect recipe for a fighter! In exchange for saving her mother's life, Ember is promised to the Conatus group which are fighters of dark magic. Ember learns it all and comes to a point where she has decide whether to follow the light or the darkness.
5. STRONG GIRLS OF COLOR:
This book isn't specifically considered "YA" but it was the immediate one I thought of for a woman of color plus I read it as a teenager and survived. Maskelle was a Voice which is a woman with powerful woman who has seer like abilities. She was exiled for being a traitor and a murderess but they need her back to finish weaving the mandala for the 100 year ceremony before its completely destroyed.
6. GIRLS WHO FIGHT TO SURVIVE:
Piper wants to be part of the Consul and strives to do that but then she's made to take the fall for a powerful stone being stolen and ends up having to go on the run because all the daemons in the city want to kill her. She learns a lot of things along the way including powers she didn't even know she had.
7. GIRLS WHO ARE WEAPONS MASTERS:
I interpreted this one as not just physical weapons master but cleverness of the mind as well. Meliara makes promise to her dying dad that her and her brother will take care of the court and their people. The war timetable gets pushed up significantly and she ends up learning quickly how to defend the physical battlefield and deal with political play in the Court.
8. GIRLS WHO DON'T CONFORM TO GENDER ROLES:
Keladry is just amazing. A decree is lifted that allows women to train to be anointed into knighthood, which was only allowed to boys before, and she takes full advantage of that. She goes through the hazings and the rough schedules which only pisses off the Lord training master. He decides to make things even more difficult because he's completely against this decree. Keladry as well as others prove throughout the series that girls are definitely not to be underestimated!
10. STRONG GIRLS IN CONTEMPORARY NOVELS:
I got nothing. As you can probably tell, its very rare that I read a YA contemporary.
11. SERIOUSLY FIERCE GIRLS:
I'd have to go with Rose on this one. She's pretty baller throughout the entire series. She can give it as well as she can take it. Even when it seems like all the chips are down, Rose never gives up. She always finds a way!
12. MOST ANTICIPATED BOOK WITH A STRONG LEADING LADY: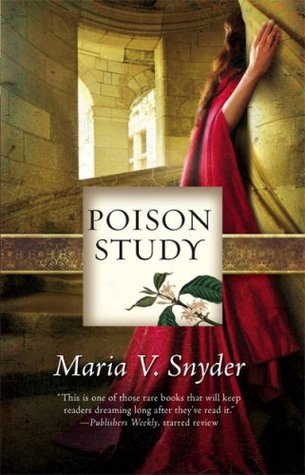 I can't do a YA tag without mentioning Yelena. She has a choice between death or being a poison taster. This is literally a lose-lose situation but she wants to live and she learns exactly how to do that and more!
---
If you're interested in any of the books I listed above, just click the heroine's name which will link you to the much better Goodreads description.
I tag (if you've already done this tag, link me to your answers please!):
Who are your favorite badass, bookish heroines? Let me know in the comments below!