Today is release day!
My current binge read has been the Hidden Legacy trilogy by Ilona Andrews. I'm finishing up second in the series, White Hot, just in time for the final book, Wildfire; out today.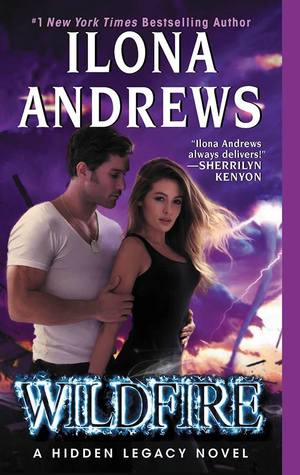 I'm thoroughly enjoying these books and then some but it got me thinking.
Does anyone remember when openly admitting that you read romance was taboo? I admit, back in my college days, when I would read a novel that had romance in it and someone would ask me what I was reading, I would say something along the lines of, "it's historical fiction" or "it's fantasy" and describe it without literally naming romance.
Traditionally, getting the stink eye for reading romance was a legit possibility. For whatever reason, romance novels were always associated with older women. I remember people dubbing them as "old lady porn". Fellow readers like myself and others who enjoyed the genre would take pains to mask what we were reading. There used to be a such thing as book covers. They were all different types of designs and colors and were very popular for school books but a lot of us used them to cover up our real reads.
Now you look around and see covers like the ones above and this is normal. It's actually great. People like to attribute this to the release of things like Fifty Shades of Grey but I think the times just changed and people began to just not care what others thought about in terms of their reading choices. I guess it also helps that 40% (!!) of paperback sales, at least in the United States, are romance these days.
I find it all quite fascinating. I think it takes a great deal of skill to write a good romance novel. For example, looking at the books above, you probably think it's full of nothing but sex and maybe magic solely looking at the covers. You'd be completely wrong. The tale that is woven throughout the story is completely complex. The authors (it's a husband and wife team) built this world full of intrigue that takes your imagination places. The tension levels between family members, employers and lovers make you feel like you're right there, in their shoes, making decisions that may or may not be right. Before I even get to the intimate bits, I'm ready to scream, cry, shout with joy, question why and beg that the author doesn't leave me hanging.
I look back and wonder why I felt embarrassed about sharing what I was reading. Now I'm proud to share any and every book I read with others. They may not like it, they may not even be interested, and that's perfectly fine but an author's hard work should be celebrated no matter the genre they write in.
How do you feel about the romance genre? Is there a different book genre you feel is taboo? Have you ever had to mask a book you were reading from others or downplay the content because you didn't know how another would react? Let me know in the comments below!