Since I've just finished the second half of the #BookCouplesChallenge on Twitter, I wanted today's post to be about the books that I shared from Day 11 to day 20 (today).
Here is the meme again so you can see each days category: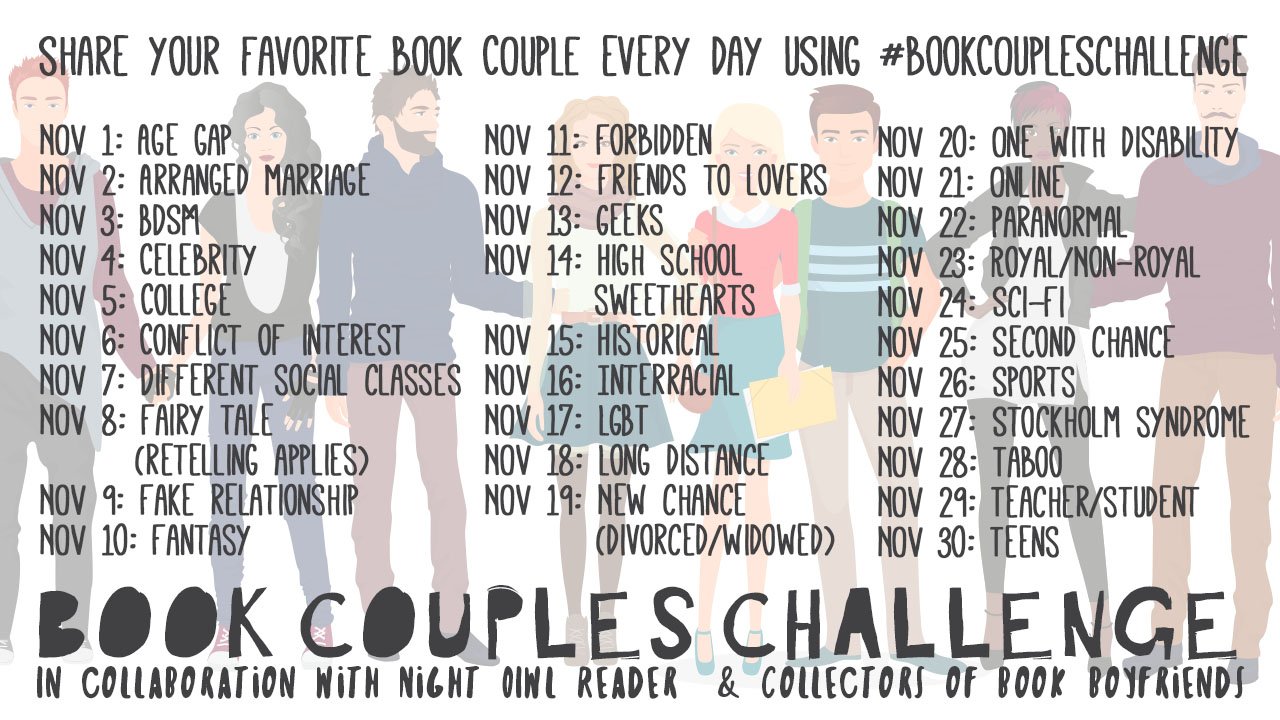 Here are my picks:
Day 11: Forbidden – Sascha and Lucas in Slave to Sensation by Nalini Singh
Day 12: Friends to Lovers – Summer and Joe in Seeing Red by Jill Shalvis
Day 13: Geeks – Hierax and Indigo in Hierax by Ruby Lionsdrake (also fits day 16 for interracial cause Indigo is black and Hierax is white)
Day 14: High School Sweethearts – Lissa and Christian in Frostbite by Richelle Mead
Day 15: Historical – Gillian and Brodick in Ransom by Julie Garwood
Day 16: Interracial –  Summer and Takashi in Ice Blue by Anne Stuart (plus, Hierax above)
Day 17: LGBT – I didn't know one so I borrowed one of my Twitter's friend's answers for mine – Pike and Zack in Off Base by Annabeth Albert
Day 18: Long Distance – Jaime and Claire in Dragonfly in Amber by Diana Gabaldon
Day 19: New Chance – Meredith and Matt in Paradise by Judith McNaught
Lastly, the one I'm posting today:
Day 20: One With Disability – Maris and Parker in Envy by Sandra Brown
That's it for the second third of this challenge. I'm really proud of myself for sticking it out this long cause I usually suck at challenges. 10 more days to go! Happy Monday everyone!