Hey, hey it's Facebook Friday and there's frost on the ground in Northeast Ohio! One step closer to a real winter maybe? We'll see! Let the countdown to the end of 2017 commence!
Facebook Fridays is a weekly segment of RT where I share some fun stuff I observed on Facebook this past week. I share a fun meme or screenshot, a video that resonated in some capacity and a photo of my own.
For the whole month of November, I participated in a Twitter challenge where everyday was a new book couple. It ended yesterday but I do want to share with you my last 10 days of books. Funnily enough, the creator of the challenge and few other were so happy I participated that they asked me to join their December challenge as well. So I've signed myself up for another challenge and I'll be sure to share my choices with you along the way 😀
Here is the meme again and below my choices: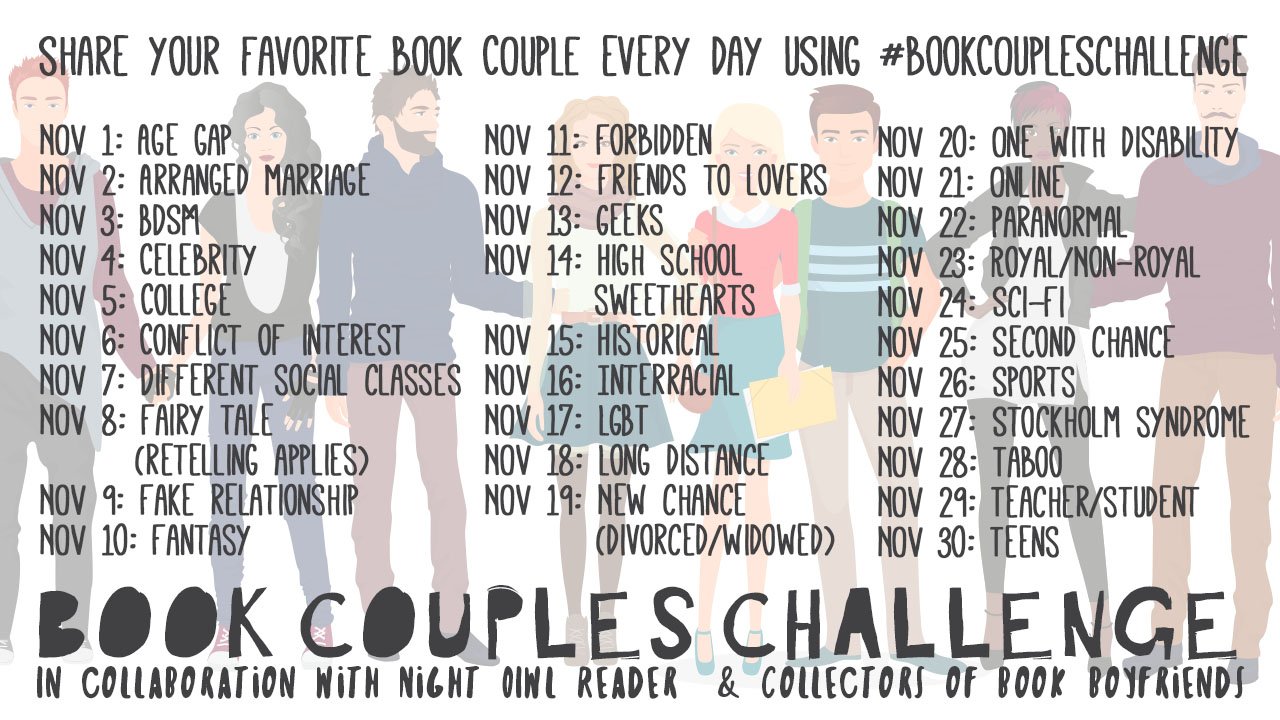 Day 21: Online – Kaleb and Sahara in Heart of Obsidian by Nalini Singh
Day 22: Paranormal – Charley and Reyes in the Charley Davidson series by Darynda Jones
Day 23: Royal/Non Royal – Colin and Alexandra in Never a Lady by Jacquie D'Alessandro
Day 24: Sci-Fi – Amaranthe and Sicarius in the Emperor's Edge series by Lindsay Buroker
Day 25: Second Chance – Javier and Laura in Striking Distance by Pamela Clare
Day 26: Sports – Phoebe and Dan in It Had to Be You by Susan Elizabeth Phillips
Day 27: Stockholm Syndrome – Lora and Max in Wild Orchids by Karen Robards
Day 28: Taboo – Raphael and Elena in Angel's Blood by Nalini Singh
Day 29: Teacher/Student – Yelena and Valek in Poison Study by Maria V. Snyder
Day 30: Teen – Ember and Barrow in Rise by Andrea Cremer
Next up is the video. This animal video is soooooooooooo cool! I saw it and shared it instantly. I'm sure you've all seen starfish before and maybe touched them but have you ever seen one move??? It's so cool! Check it out!:
---
And that's it for this week. I didn't share any pictures this round but maybe next Friday. Did you see anything cool in your social medias this week? Let me know in the comments below and have a good weekend everyone! See you Monday!