There are a lot of things going on in my life at this very moment and if I talk about them out loud it might give me homicidal tendencies so here's a book review. My book reviewing skills are completely rusty and I don't have specific directions about how to do it the most informative way but I hope you enjoy these!
Over the weekend, I went on a huge binge reading spree and was able to finish 2 books as well as read a third one. To the left are two of the books that happened this weekend. I started Archangel's Heart over two weeks ago but life got in the way but I was able to finally finish it. Archangel's Heart and Archangel's Viper are book 9 and book 10 of Nalini Singh's Guild Hunter series. Here is the review I wrote on Goodreads for Archangel's Heart:
I just want to start by saying, NOBODY writes love, like this woman. Oh my goodness, this book cemented that for me.

Archangel's Heart begins with the Cadre being summoned by the Luminata to come and discuss some important matters. The Luminata reside in Lumia which is a small town in Morocco where angels go to seek luminescence. The path of luminescence is different for every angel be it through education, art, etc. It's decided that of the Seven, Raphael and Aodhan will go and Elena is consort so she has no choice in the matter. You do not ignore an invitation from the Luminata. In the midst of this, there are still questions about Zhou Lijaun's status as Archangel of China after the events in the last book (You'll have to read it to find out what those events were).

Once in Lumia, things are definitely not as they seem. The Luminata seem a bit off. They are all wearing hoods covering their faces, they don't seem to care about basic angel etiquette and Elena and Raphael as well as the Ancient angels Caliene and Alexander feel as if there are always eyes on them even in their private rooms. Then there's also the fact that everyone looks at Elena and seems to see ghosts of the past. This essentially leads to Elena, Raphael and Aodhan digging a little deeper into the happenings of Lumia. They investigate the town and learn quite a few things which builds up to astounding revelations close to the end of the book.

I can't really go into more detail without spoiling it but I want to say that Nalini Singh can write no wrong in my eyes. Every time Elena and Raphael said "I love you" to one another, I got the warm fuzzies inside. My emotional meter was all over the place in this one from sadness to anger, to happiness and disgust. I was feeling it all and I loved it. The plot buildup was truly artful. The conversations between characters and scene transitions were flawless. After closing this book I literally turned around and picked up Angels' Blood (the first book in this series) to relive the beginning of Raphael and Elena all over again. Their character development keeps me glued to this series and then some. Just when I think they can't get any more beautiful, Nalini takes me to an even higher level!

If you've been keeping up with the series this long, then I can assure you, you will not be disappointed when you read this book. Definitely my second favoriteof the 9 books!
Now, you know when you read a series for a while, you always hope it will continually get better right? I figured Archangel's Viper would be pretty good but I lost hours of sleep last night as well as woke up almost late for work this morning because I couldn't put the book down until the very end! Here is my review for Viper that I'm actually going to write here first and then paste to Goodreads: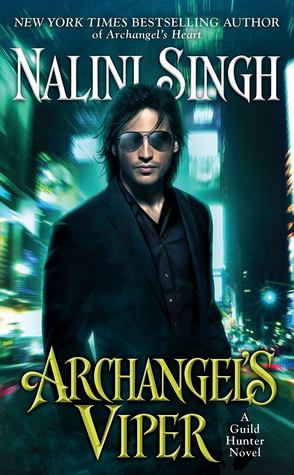 Before I get into the nitty gritty, I guess I should start by giving you a general synopsis of the story. Archangel's Viper takes place during the period of time as Archangel's Heart. While Elena and Raphael are away in Morocco dealing with Luminata, Dimitri is in charge and delegating duties to everyone because it's a bit of high alert situation when an archangel is away from his territory and someone as ruthless as Zhou Lijuan is AWOL. Everyone needs to be prepared for anything. Holly is tasked with picking up Venom from the airport because he's been away from the Tower for two years on some secret mission. When she picks him up, they encounter some goons who are following them trying to ambush Holly because there's a bounty on her head. From that point on, Holly and Venom explore the slums of New York in order to figure out who and why anyone would take a bounty out on her.

The story has come back full circle since Angel's Blood. Holly was one of the girls who was brutalized and tortured by bloodborn, rogue archangel Uram. Nobody believed she would survive what she had to endure but she changed her name to Sorrow for a while and members of the Tower, most especially Dimitri were able to get her to see a fraction of her old self. She's not human but she's also not vampire nor angel. Holly struggles with that a bit because she feels like a burden to the occupants of the tower. Venom is in a similar situation. Most people keep their distance from him because of his eyes. He's not human or vampire or angel either. They are both of their own breed; similar in some ways but different in others. Venom begins to help Holly to stop treating herself as weak while Holly sees behind Venom's sunglasses, as well as his facade that he puts up for everyone else's benefit.

Nalini Singh truly has a way with words that always speaks to me in this amazing world she's built. Holly has a lot to deal with where her own self emotions are concerned. She also has to contend with a possible mind and body invasion by this other force that's making her do things she normally doesn't do or thinking of nefarious things that would normally disgust her but don't. It's a bit of a constant struggle of Holly fighting herself throughout the book and Venom doing all that he can to make sure she fights for herself more than hating herself. The book complete and utterly flows in the character development department. I can literally put myself in any one character's shoes and understand where they're coming from. We got a lot more information about the nature and rules of 100 year contracts when a mortal is Made and what is expected but also what is unacceptable. That really added another element to the overall world that going forward, will make stories even more interesting.

I can go on and on and on but I literally can't wait for the next book. Maybe an Illium story?? (Pleeeeease!?)
Can you tell I'm hooked? That is just two books out of 10! I adore this woman's writing style. The best way to describe it is by saying it's just so real. There's a lot of cursing in her stories but honestly it fits. Most of the characters are either normal mortals who deal with some crazy shit due to their jobs on a regular basis or the they're immortals who have lived so long that they either don't have much care for mortals or they are just completely nonchalant about the happenings of the world. When you lived hundreds of years or more, I imagine it can get quite dull until a person or event one day smacks you out of your black and white stupor and you start living in color again. The series just continually hits my feels and I'm such an emotional person that I can't deny this special brand of torture to myself.
As with any and all books, my opinion will probably be different than yours. However, if you decide you would like to venture into the world of paranormal, urban fantasy romance, you can't go wrong starting with Nalini Singh's Guild Hunter series. 🙂 I hope you all enjoyed my two for one special. 😉
Edit: I should mention my ratings. Duh. I rated the first one 5 stars and the second one 4 stars.